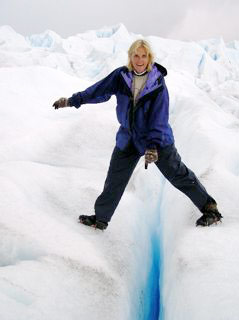 Conservation Column features
Alison M. Jones and No Water No Life
By Ginny Michaux
The Explorers Log, A Quarterly Publication of The Explorers Club, Fall 2011
---
HOW many of us have a phrase like this ringing in our ears from early childhood? "Alison, the most important issue in the future will be that of Riparian Rights!" For the adult Alison M. Jones, her grandfather's puzzling words spoken when she was just eight years old have now become part of her life's mission.
When flying and photographing low over Africa in 2003, Alison could graphically see that, "… where there was no water, there was no life!" Thus emerged the idea for the organization which she founded and directs. No Water No Life (NWNL) pairs the power of her award-winning photography and journalism with science, working to foster and preserve fresh water resources by studying in detail, both scientifically and photographically, six major river systems in Africa and North America. The watersheds under study are those of the Columbia, Mississippi, Raritan, Nile, Omo, and Mara Rivers. Since the UN has projected that by 2050, 4 billion people worldwide will face fresh water scarcity or stress, her effort has assumed immense importance.
Alison is a member of The Explorers Club Conservation Committee. She helped start Kenya's Mara Conservancy, is a Fellow of the International League of Conservation Photographers, the Society of Environmental Journalists and North American Nature Photography Association. She has received two Scott Pearlman Field Awards and two expedition flags from The Explorers Club, and was awarded an Honorary Masters in Photography from the Brooks Institute. Alison is a tireless conservationist, photographer, writer, networker, and speaker on freshwater resource management, expeditions, and photography.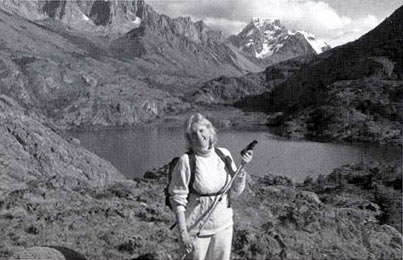 Inspired by Dorothea Lange's and Yann Arthus-Bertrand's abilities to portray resilient but stressed people and the fragility of Earth's ecosystems through photography, Alison has focused on emphasizing the importance of fresh water resources through her beautiful and evocative images. Some of her advice to budding conservationist photographers includes getting to know your subject well so that you know what is important to capture with the lens. "You must study your subject ahead of time — interview scientists, and local stewards and residents first, so that you actually know how they feel and what is important, what shots will be important. Random shooting seldom communicates the subject effectively or accurately," she says.
Ahead lays more expeditions to photograph NWNL watersheds' people and ecosystems. In September 2011, Alison and NWNL will be in the Columbia River Basin, documenting dam removal and trans-boundary issues. The expedition will end by filming a reparation ceremony, when a replica of a canoe taken by the Lewis and Clark Expedition from the Chinook Nation will be returned to them by former St. Louis Chapter Chair Carlota "Lotsie" Clark Holton, a 7th generation descendant of William Clark. Explorers Club Board Director Mabel L. Purkerson, M.D., will also participate in this unique event, organized by Club member Richard Holton. Future NWNL expeditions will document the Lower Mississippi, Kenya, and Tanzania.
To experience Alison Jones' photography and learn more about her work, please visit www.nowater-nolife.org and www.alisonjonesphoto.com.