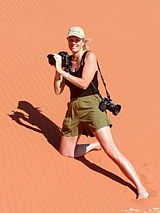 Alumna Profile: Alison Jones '67
By Nola Kende Long
The Masters School, Dobbs Ferry, Bulletin, Spring/Summer 2005
---
BEFORE I even received the written responses to the questions I posed, Alison Jones '67, self-described photographer and conservationist, visual anthropologist and travel consultant, documentarian, Dobbs graduate, and a concerned woman of the twentieth and twenty-first centuries, said, "Thank you for the opportunity to see how deeply my Dobbs experience has influenced me in who I am as a photographer!"
Her excitement at the prospect of being interviewed for The Bulletin leapt through cyberspace and jumped off my computer screen. Her smile behind the typed words and boundless enthusiasm were as evident in my office as if we had met on the Sossusvlei Dunes pictured above.
Alison Jones, the person, seems larger than life and her photos, well, they really are larger than life. Having traveled the equivalent of many times around the world, Alison has been to far off places documenting people, cultures, lives, and nature with her trusty companion, a camera. This is not only what she does for a living; it is what she does as her part in saving the world from itself – following "the three-legged stool" philosophy. It's the philosophy that she lives and works by: "The world, as I see it, is a three-legged stool. Communities, flora and fauna, and habitats are interdependent. If one leg of this symbiotic stool is ignored or damaged within an ecosystem, the stool collapses and all elements will suffer. To know one leg of this stool, one must know the others."
And so, with this mantra in mind, Alison goes to places such as Nicaragua, Mexico, Tanzania, Mt. Kilimanjaro, and Paris; sometimes having been hired by a non-profit group to photograph the rainforest, monarch butterflies, and cashew farming in Ghana; and sometimes on her own free-lance whim as a place she'd like to document. She views her work as important in the quest for preserving life as we currently know it as well as to highlight the immense problems we are encountering. During an expedition to the summit of Mt. Kilimanjaro as part of a fundraiser, Alison was astounded to witness the melting of the volcano's icecap due to global warming, which she says will be gone by 2020. (She jabs, "And as for Miss Smith and Miss Malcolm's Body Mechanics class and prophecy that I'd be a humpback invalid forever, I wish they could have seen me at 19,341 feet having summited Mt. Kilimanjaro.")
Always bringing the three-legged stool into play, Alison writes, "I recently began to focus on the fact 'no water – no life.' Last summer as copilot and photographer, I led four clients over the waters of Africa, including Gussie Talbot Baker '67. From Kenya, we skimmed low over the Great Rift Valley of Africa, the Okavango Delta, the Skeleton Coast, and the Cape of Good Hope. We stopped usually for three days at each of sixteen locations in eight countries, and documented flora, fauna, and lifestyles on Africa's riverbanks and lakeshores. The importance of water was in our face the whole month!"
Alison, a girl from an idyllic and rural hometown that shaped her love of nature, focused on academic subjects at The Masters School and never took a photography or art class while here. She particularly remembers Miss Rehfuss' class on existentialism that "opened me to people's search and need for meaning and to our similarities as well as diversities of beliefs." In Mme. Pelmont's French class she read Emile Zola, who wrote, "Man cannot be separated from his surroundings." "This precept is the basis of my photographic and travel philosophy," says Alison.
It wasn't until a trip to Africa in 1986 that Alison's desire to become a photographer surfaced. "I was fascinated by other cultures' respect and use of their land, as well as their validation of and reliance on their traditions and past. Questions arose that I wanted to pursue and document. Are there true differences from one society to another? As cultural identities are being lost, I'd like to be a part of both honoring and recording ethnographic profiles for future generations," she writes.
Since then Alison has studied and pursued photography relentlessly. She travels to icy glaciers, dusty villages, dangerous countries – and loves it all. The rewards are many, she says, and that keeps her motivated to do more, give more, and help more. "I hope my images create for viewers a visual foundation for new concepts, contradict outdated or erroneous perceptions, and encourage the future to make up its mind to carefully assess the vulnerability of our planet," says Alison. "A good photograph can be more than just a sharp image of smiling faces and beautiful scenery – it can carry a message."
This summer [2005] Alison will continue her photographic investigation of the issue of water scarcity, pollution, and commodification in Africa by boating down Ethiopia's Omo River into Lake Turkana visiting remote tribal villages traditionally based on the riverbanks.