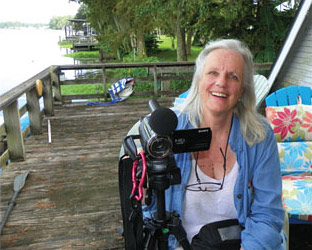 No Water No Life visits Belle River
Reprinted from Teche News, St. Martinville, LA, September 24, 2014.
---
Belle River — Alison Jones, director of and photographer for the environmental organization called No Water No Life stopped in Belle River recently to gather information as part of the NWNL organization expedition of the Lower Mississippi Rover Basin.
As other members of the NWNL team visited the New Orleans Industrial Canal, Lake Ponchartrain, Bayou Sauvage, and other sites in Plaquemines Parish, Jones made a visit to the home of Pete and Linda Cooke where she video interviewed Linda Cooke and others on her way to Bayou Sorrel and a visit with Atchafalaya Basin Keeper Dean Wilson.
The main focus of the interview was to learn about the recent attempt of FAS Environmental, Inc., of Belle River, to have a portion of the Atchafalaya Basin Levee rezoned in order to construct a wastewater transfer site on the levee.
Jones was interested in the operation of injection wells, the possibilities brought up by this rezoning attempt, and the response of the residents of Louisiana Highway 997, a neighborhood which would be adversely affected by such a rezoning.
Jones was also interested in the traditional way of life of people on the waterways of Belle River and in this part of the Atchafalaya Floodway Basin.
The focus of the NWNL expedition to the Lower Mississippi River Basin included urban and rural resiliency to climate change, coastal erosion, transportation on the Mississippi River, water pollution, migratory bird protection, loss of cypress and wetlands, effectiveness of levees, locks, dams and resource management.
On this expedition, NWNL visited Baton Rouge, Natches and Vicksburg, Clarksdale, Memphis and sites in the Atchafalaya Basin. From the information gathered on this expedition, No Water No Life will create still and video documentation, publish via print and online media, create exhibits and conduct lectures.
No Water No Life is based in New Your City and has conducted expeditions to the Nile, Mara and Omo river basins in Africa and the Columbia, Mississippi and Raritan river basins in North America. NWNL is funded by grants, donors and gifts, and supported by The Explorers Club and WINGS WorldQuest.