Alison M. Jones: Fine Art Prints and Gifts
---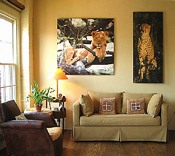 Fine Art Photographs
Custom Prints Available:

Size (inches)
Print
Matted Price
Minimum
Framed
8 x 10
$90
$150 (11 x 14)
$250
10.5 x 16
$150
$225 (16 x 20)
$375
13 x 19
$300
$375 (20 x 24)
$525

Please browse our Photo Galleries for available images. For orders or more info, call 212-861-6961.
---
Portfolios in Limited Editions by Alison M. Jones:
Christo's Gates, Central Park
Only 2 are left of this limited edition of 50 portfolios!
The 6 x 9" portfolio folder holds NINE signed, archival prints and an essay on the impact of this unique event. The portfolio design is my interpretation of Christo's art and presents my images of NYC's Central Park (my "backyard") be-ribboned both night and day, in snow and sun.
With only two left, these collector's items are now $300 each.
For orders or more info, call 212-861-6961.
---
Booklets by Alison M. Jones:
"A Pride of Lions"
This 4" x 6" booklet of 8 photos of lions by Alison M. Jones was created to help save Africa's large carnivores, through conservation, research, development and education programs.
"I've photographed lions for over 25 years. Working with Kenya's Mara Conservancy, I've seen the fragile balance between wildlife and community. Thus I applaud the lion conservation approach of The African People and Wildlife Fund." — Alison M. Jones
"The future of these cats lies in our hands – their numbers are dwindling and habitats disappearing. Saving lions means reducing conflicts between people, livestock and the big cats, and helping local people derive benefits from their existence." — Dr. Laly Lichtenfeld, Dir. of African People and Wildlife Fund and NWNL Advisor
$30 Each. For orders or more info, call 212-861-6961.
---
"Both Hands" – Photos by Alison M. Jones

The peace of Africa is in tender hands
caring for children and elders.

The joy of Africa is in rhythmic hands
celebrating tribal traditions.

The energy of Africa is in the hand-to-hand
cooperation of entrepreneurs.

The hope of Africa is in hands working
so children will be healthy and educated.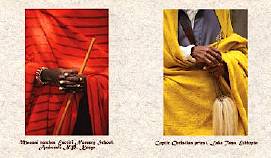 "Both Hands" is sold in three formats:
• Portfolio: limited ed. of six 11x14" prints, $500.
• Individual archival prints, priced by size.
• A hand-bound book (6x6" – 30 images), $50.
For orders or info, call 212-861-6961.
---
Journal by Alison M. Jones:
"The Waters of Africa: No Water – No Life"

The story of Africa is anchored by some of the world's largest lakes and longest rivers. These waterways spill out the message "No Water – No Life!" But today they are unable to supply enough clean, fresh water to quench Africa's thirst.… We must find … the cumulative energy to foil the dire predictions of illness, death and wars caused by water pollution and scarcity.
This hand-bound, linen-wrapped and signed journal highlights the values of African waterways, lack of available clean water and ideas for solutions. The journal's 60 pages, lined for personal entries, include Alison's photographs from 1985 on and relevant quotations.
COLLECTOR'S ITEM: Only ONE copy left: linen-wrapped, hand-bound, custom-printed and signed. Price: $500. To order or more info, call 212-861-6961.
---
Greeting Cards by Alison M. Jones
Reducing Inventory! Blank 5x7 and 6x6 greeting cards with an Alison Jones photo, for sale in packs of 4 cards with identical images. High-quality stationery and suitable for framing. Price now only $10.
When ordering, choose a subject (animals, architecture, landscapes, flowers, indigenous people) or a region (US, Europe, Africa). You won't be disappointed!!
For orders or more info, call 212-861-6961.
---
Gift Certificates
Gift Certificates for any of the products we offer, and for Personalized Photographic Coaching: one-on-one sessions with Alison for any level of photographer ($95 per hour).
For orders or more info, call 212-861-6961.
---