Alison M. Jones: Tours: Maya Adventures in Guatemala
---
Maya Adventures in Guatemala
(Visit my Photo Gallery of Textiles Worldwide)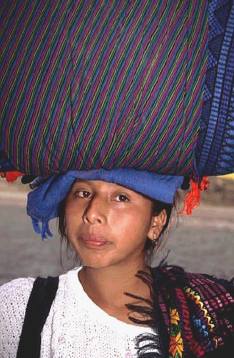 IMMERSE yourself in the colors of Maya culture as I did, investigating textiles and folk-art with Rosie Sundeen. As a weaver herself, she's studied Maya textiles for years and helped establish Guatemala's Ixchel Textile Museum. Her unique connections open doors to Highland Maya weavers, who otherwise don't talk to strangers due to the centuries of persecution. My colleague however has supported and befriended many talented weavers, and thus can offer rare opportunities to witness life within Maya homes and artists' studios, while staying in charming hotels.
A sample itinerary: 11 days in Guatemala
Guatemala City Private docent tours of the Ixchel Textile Museum and Popul Vuh Archeological Museum.
Maya Highlands Lush scenery en route to volcanic Lake Atitlan.
Santiago Atitlan Eat at a weaver's home in this lakeside village.
Chichicastenango Spend the day in the indigenous market.
Salcaja Watch tie dyeing and corte (skirt) floor weaving.
Almolonga Stroll through the colorful Indian produce market.
Antigua Stay near old volcanoes in Guatemala's former colonial capital, "one of the oldest and most beautiful in the Americas" (per Lonely Planet). Residing in Casa Santo Domingo, a 16th-century monastery, we'll explore colonial ruins and textile markets.
Santiago Sacatepequez We'll join in the kite flying on All Souls' Day and visit decorated cemeteries there and in Antigua.
or call me at (212) 861-6961 for information on dates and prices for Rosie's upcoming tours.
---