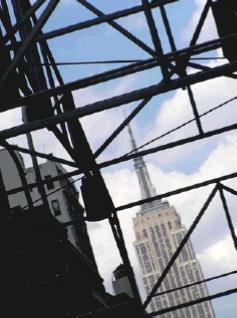 THE way to come face-to-face with New York is to walk it! For a guide, I heartily recommend Bill Goodhart, an avid born-and-bred New Yorker.
Oxford-educated, former teacher and continual student of NYC's rich history and lore, Bill fell in love with New York by literally taking to the streets and running through all the neighborhoods. But don't worry, he can be somewhat less athletic with you and yours!
Walking with Bill over the last 3 years, I have learned to really enjoy this great city! (And that was a challenge, since I'd moved abruptly from the paradise of Santa Barbara CA!) With Bill I learned NYC is friendlier and more available than I'd ever imagined. To be with him is to relax in this busiest of all cities! Bill has intimate knowledge of the city's neighborhoods, and chatty stories about many of its famous and infamous (!) inhabitants, so join him for a stroll through:
Join an inexpensive scheduled tour; or have a 3-hour private tour. or call me (212 861-6961) to schedule your time with Bill.